Infection Control for Healthcare Course Details
Infection Control for Healthcare

Infection Control for Healthcare Course - Blood-borne diseases, legislation & procedures
£24.95 + VAT per trainee
Infection Control Training is a mandated training program for any employee, self-employed person, or safety representative who may be exposed to blood or other body fluids. This course is available online or from one of our approved instructors.
It is designed to meet the requirements and recommendations of the HSE and the medical professionals. infection control training is required in other industries outside the medical world.
This course comes with 3.0 hours of CPD, although the time to complete the course online may be less than this. Total course time includes 1 hours and 18 minutes of video training as well as knowledge reviews, final test, remedial help and reviewing downloaded material.
The content of this and all our courses has been independently certified as conforming to universally accepted Continuous Professional Development (CPD) guidelines and come with a Certified CPD Statement as well as a ProTrainings Certificate and for online courses an Evidence Based Learning statement.
Student manual and other free downloads upon purchase
CPD Time Credit Conformation
Evidence Based Training Certificate on completion
Print your wall certificate on completion
Access to the course for 8 months and other refresher and reminder features
1-year nationally recognised certificate for £24.95 + VAT
Engaging multimedia video training
Student Downloads Available with Course:
Infection Control Student Manual V4.0
Workplace Accident Book
Home Emergency Contact Sheet
Work Emergency Contact Sheet
Step by Step Guide to COSHH HSE Guide - Link to HSE website
Link to the HSE website
Free student first aid program leaflet
HSE 5 steps to Risk Assessing link to HSE website
RIDDOR link to the HSE guide
Essentials of health and safety at work link to HSE website
HSE guide to PPE
Clean hand techniques leaflet
Cleaning colour coding in the NHS poster
NHS Choices Web link
Online Card: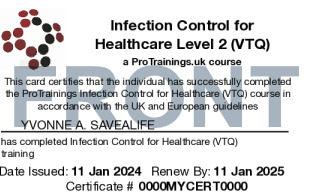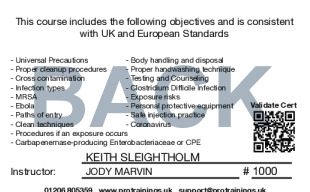 Classroom Certificate: